Page under construction. Check back soon for updated posts and materials.
LA, on the west coast, along a humid motorway lit by the red neons of the strip clubs. London, a gorgeous and wild brunette, arrives. Erotic dancer in a club, she remembers this particular night where she'd been struck by her desire for another dancer, Dylan Ryan, tall sculptural blond who knows exactly what she wants and how she wants it.
Hallucinated flashbacks of their nights of fever at the clandestine and muggy Strap on Motel, haunt her. Their chemistry is explosive and their desire, insatiable! Their mouths devour each other and their burning hot caresses explore the lesbian Kama Sutra spiced with sex toys, fetish boots, domination and submission and of course… Strap ons will never die.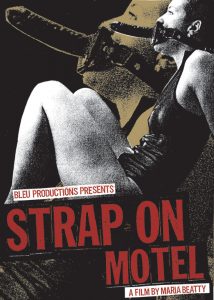 Strap On Motel
A Maria Beatty film
USA, 2008, color
Duration: 50 mins.
Starring: London and Dylan Ryan
Text and Reading by Ursula Del Aguila
Music by Maestro de la Noche
Watch Strap-on Motel